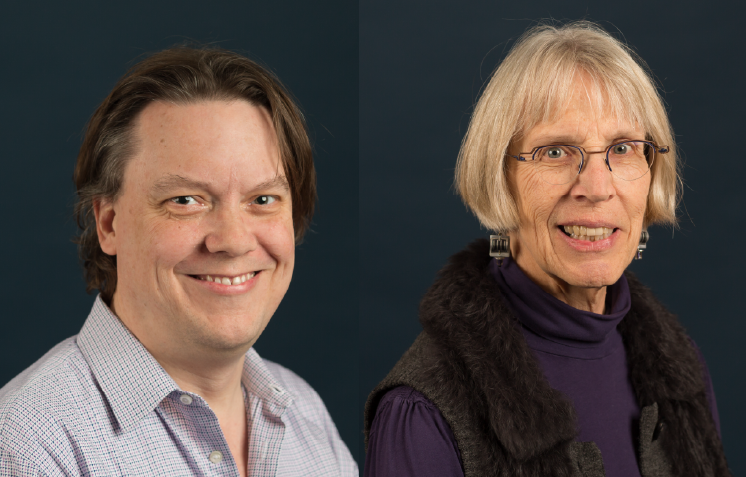 Good Systems would like to thank Dr. Sam Baker (Department of English) for his leadership as Chair of the Good Systems Executive Team in 2021-22. Baker will continue to serve on the Executive Team. The grand challenge now welcomes Dr. Sharon Strover (School of Journalism and Media) as chair for 2022-23.  
Read letters from Drs. Baker and Strover below as they reflect on the past year and look forward to continued growth. 
From our outgoing chair, Sam Baker:  
In January of 2017 I began meeting with faculty from across campus to discuss the possibilities for, as our initial rubric put it, "Living the Good Life in a Tech-Driven World." One of my first tasks as a humanist on this team was helping explain that "the Good Life" this rubric called us to seek was not the life of luxury, but the ethical, self-examined life sought by the ancient Greek philosophers. How can the traditions of ethical thought help us to define what is "good," and to build and evaluate technological systems in keeping with our ideas of the Good? How might the advent of artificial intelligence be changing our ideas of what is good, and of how good systems can be made? 
Over the past five years, as our initial small group evolved into the large-scale collective enterprise of the Good Systems Grand Challenge, it has been a tremendous pleasure and privilege to see UT scientists and scholars teaming up to pose these questions across the broad range of application areas where they are felt with increasing urgency. As Chair of Good Systems for 2021-2022, I saw our Core Research Projects flourish, bringing into focus the problems and possibilities for ethical AI in combating disinformation, analyzing public camera data, furthering racial justice, improving urban planning, living and working with robots, and making smart hand tools work for everyone. 
Moving beyond the pandemic and the big freeze, we renewed our commitment to interface with our community stakeholders–including most centrally the City of Austin–and our industry and nonprofit partners, a commitment captured vividly at our 2022 Good Systems Symposium. We expanded our support for our campus community by sponsoring Good Systems Summer Fellowships for Faculty, Researchers, and Students, and we broadened the scope of our leadership by adding to our Executive Team two long-time Good Systems collaborators, Luis Sentis of Aerospace Engineering and Engineering Mechanics and Sherri Greenberg of the LBJ School of Public Affairs.  
Good Systems is now moving to engage fully in the national and global conversations about ethical AI. To this end, we are playing a central role in UT's emerging partnership with the MITRE Corporation, and we are forging a transatlantic collaboration with the United Kingdom Research and Innovation (UKRI) Trustworthy Autonomous Systems Hub, a consortium of researchers in Britain who are, like us, devoted to ensuring that ethical questions are properly considered when AI systems are designed, built, and evaluated. 
Now, as we follow along the path mapped out for us by our Founding Chair Ken Fleischmann of the School of Information and our immediate past Chair Junfeng Jiao from the School of Architecture, we welcome our new Chair, Sharon Strover, from the School of Journalism and Media in the Moody College of Communication. I had a delightful semester last spring learning from Sharon as we co-taught an Undergraduate Studies First-Year seminar on AI and society, and I am excited to see where Sharon, with her broad grasp of AI's significance across a whole range of domains, and deep commitment to foregrounding ethics as we consider AI deployment, will take us next. 
From incoming chair, Sharon Strover: 
There are few days when a story about an artificial intelligence capability does not figure in the daily news. Whether it concerns facial recognition, autonomous vehicles, algorithmically driven systems of evaluation or guidance, or even the increasingly common delivery of disinformation to our social media accounts, the broad social awareness of artificial intelligence is undeniable. This was not the case when I joined the team that crafted our original AI and Ethics proposal that became Good Systems. However, even then the effort to understand AI and the growing space of its reach seemed pressing. We call our work Good Systems in order to emphasize the profound ethical choices presented by artificial intelligence, choices that when incorrect or poorly explained can challenge our norms and values. 
I am starting my term as Chair of Good Systems on the heels of a wide variety of investigations we supported that examined how AI could or should operate in environments ranging from health diagnostics to pothole detection to surveillance technology. We now have six core projects actively engaging both communities of researchers at UT – including faculty, postdocs, graduate students, and undergraduate students – as well as practitioners in industry and in governmental roles. Our common goal is to intervene in the actual design of AI systems so that ethics can be "built into" not just the technical systems but also the management and policy systems that guide how technology operates. Tackling how systems can be designed and engineered, how people respond to them, and where matters of equity, privacy, and transparency must be addressed, our research arrives at an important moment socially, politically, and economically.  
As our team begins to share results more broadly, I look forward to helping to catalyze the networks that can use our findings. This will be a year of reaching out: already we have a new partnership with the UKRI's Trustworthy Autonomous Systems Hub researchers in order to collaborate and compare approaches, we are deepening our City of Austin partnerships with new work focused on the Austin Public Library and the Fire Department, and there is much more to come. 
I thank all the previous Chairs, the staff of Bridging Barriers, and the many researchers who have brought us this far. I look forward to helping us build and position strong, ethical values into the family of artificial intelligence systems.  
Samuel Baker, Ph.D., is an associate professor in the Department of English at the University of Texas at Austin. He is also a Junior Fellow of the British Studies Program and frequently teaches for Plan II Honors. His research interests include British Romantic poetry; historical fiction, science fiction, and the gothic novel; media studies, informatics, the environmental humanities, and the cultural analysis of the built environment now becoming known as infrastructure studies. He is a founding member of the Good Systems Executive Team and Chair for 2021-22. Sam is currently a leader of the "Living and Working With Robots" core research project, which builds and studies robots that will coexist well with people.  
Sharon Strover, Ph.D., is the Philip G. Warner Regents Professor in Communication at the University of Texas at Austin, where she teaches communications and telecommunications courses and co-directs the Technology and Information Policy Institute. Some of her current research projects examine local and statewide networks and broadband services, the digital divide, rural broadband deployment, telecommunications infrastructure deployment and economic development in rural regions, and artificial intelligence issues including social media-based disinformation as well as publicly-deployed technologies. She is a founding member of the Good Systems Executive Team and Chair for 2022-23. Sharon is currently a leader of the "Being Watched: Embedding Ethics in Public Cameras" core research project, which investigates social acceptance of public cameras and develops technical solutions that will satisfy privacy concerns.