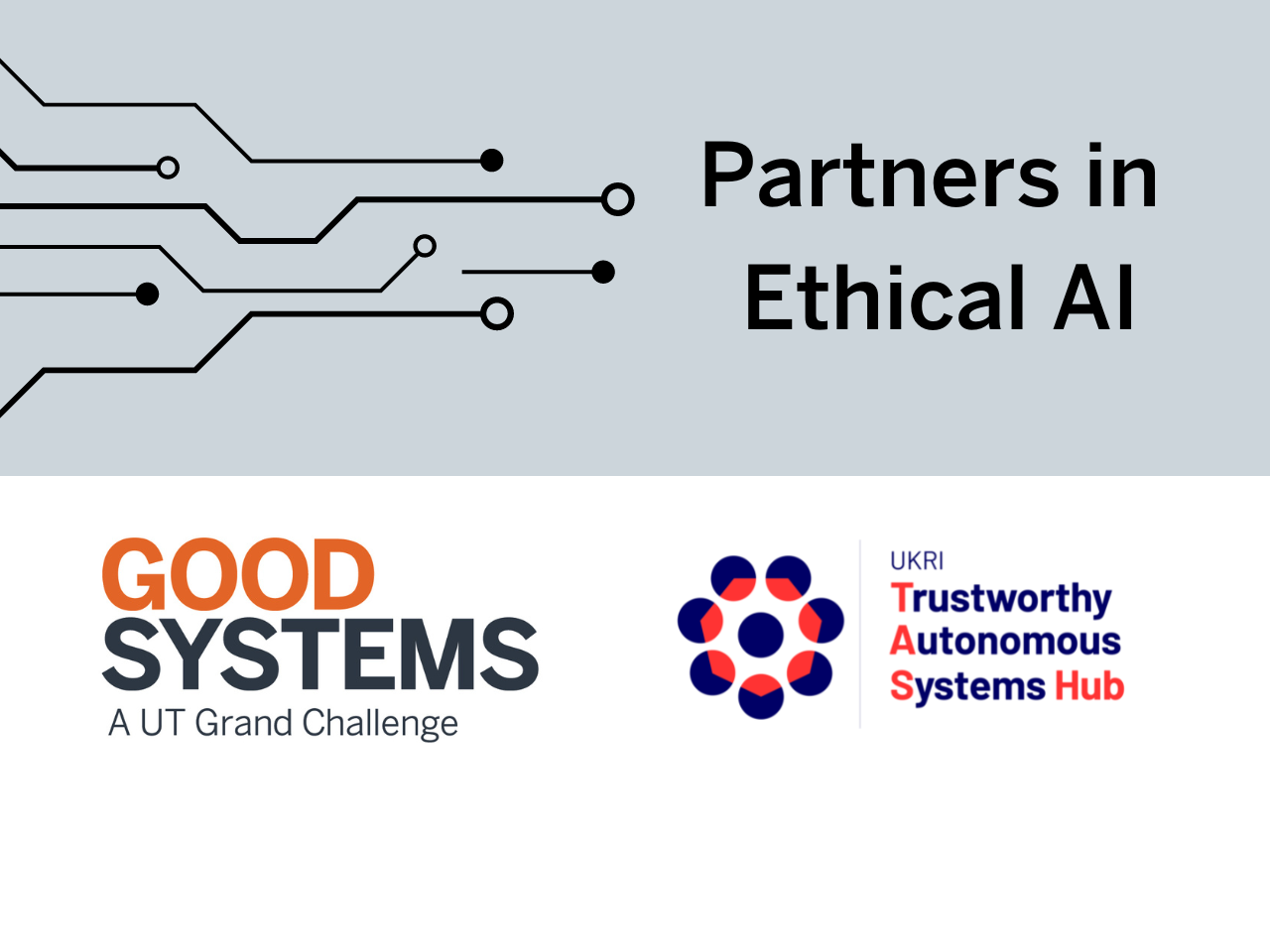 A shared commitment to Ethical AI brings together academics across disciplines and countries to tackle pressing global issues
Good Systems is excited to announce a partnership with the UKRI Trustworthy Autonomous Systems (TAS) Hub in the UK. Good Systems and TAS Hub share a vision for a future where AI is ethical, trustworthy, and transforms society for the better. By working together, we can increase awareness and understanding of the pressing need to ensure that AI embraces human values and is used for good.
The UKRI TAS Hub assembles teams from several UK universities to administer a trustworthy autonomous systems program funded by the United Kingdom Research and Innovation (UKRI) Strategic Priorities Fund. They aim to develop socially beneficial systems that are both trustworthy in principle and trusted in practice by individuals, society, and government.
TAS Hub Director Sarvapali "Gopal" Ramchurn, Thales Autonomy Technology Centre Chief Technologist Ben Pritchard, and human-computer interaction expert and reader at Kings College London Kate Devlin first visited the UT Austin campus in March 2022 to meet with Good Systems. After conversations with the Good Systems Executive Team and researchers at UT Austin, it became evident that the organizations shared common goals and research interests, particularly around values-driven AI and commitment ensuring that AI benefits society. You can read more about that visit on the Thales/TAS Hub blog.
In July 2022, Good Systems Chair Dr. Sharon Strover attended the TAS Hub All-hands Meeting in London to learn more about the organization's research and engagement initiatives, and served on an international panel moderated by Ramchurn and featuring Dr. Milind Tambe (Harvard University), Dr. Cara LaPointe (Johns Hopkins University), and Dr. Subramanian "Ram" Ramamoorthy (University of Edinburgh) exploring the impacts of AI on our global society as well as the importance of embedding ethics in AI systems. View the talk, "International Perspectives on Trustworthy Autonomous Systems." 
Now, Good Systems and TAS Hub, together with Johns Hopkins University's Institute for Assured Autonomy, will pilot a "Global Sandpit" program this fall focused on generating new research in human-machine teaming. A "sandpit" strategy is most commonly found in industry, used to help companies leverage the skills and knowledge of their employees. The workshop-style event brings together people from diverse backgrounds to deconstruct a certain topic and then to generate ideas bearing on shared concerns and innovative approaches. Sandpits are meant to bring participants together in a space that feels untethered and unrestricted to allow for effective, multi-day brainstorming.
In this case, TAS Hub, Good Systems, and Johns Hopkins expand upon the sandpit concept and tailor it for academia, with a goal of identifying global needs in the area of human-machine systems and leveraging the expertise of researchers across institutions to work on solutions that address collective issues and interests. The Global Sandpit will convene early-career researchers representing diverse perspectives in the Washington, DC, area this December.
Beyond fueling new collaborative research projects that address pressing needs, the sandpit is designed to support early-career academics through mentorship, relationship-building, and professional development. By the end of the program researchers will form US-UK teams based on their interests and expertise and develop plans to carry out collaborative transatlantic research projects over the course of a year or more.
A call for participation will be issued to early-career researchers at TAS Hub, Good Systems at UT Austin, and Johns Hopkins IAA this September. Around two dozen Global Sandpit participants will be selected by a cross-institution organizing committee.
Another shared initiative will be available to UT Austin researchers at any career stage. In September, the U.S. Department of Defense and UK Defence Science Technology Laboratory will jointly issue an Agile Defense Call to the three institutions participating in the Global Sandpit. Up to $1 Million in funding will be available for research addressing the essential need for trust when it comes to operating heterogeneous multi-agent systems such as drone swarms.
In addition to the Global Sandpit and Agile Defense Call, Good Systems looks forward to working with its partners to support collaborative research, co-create resources related to trustworthy AI, and co-develop further programs to advance shared goals and help shape a future where AI benefits communities worldwide.