Making Texas resilient is our grand challenge.
Texas' population is on track to double by 2050. Climate change will bring more floods, more droughts and more heat. In order to thrive, we need innovative strategies to equitably adapt to these new realities and to mitigate negative impacts on our communities.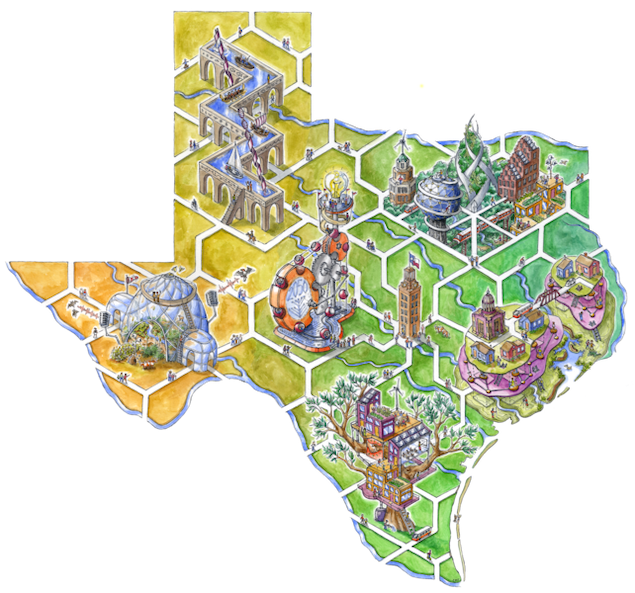 Texas is Changing
We expect easy access to clean drinking water every day. Reliable electricity 24/7. Clean air, a stable economy, and a safe place to live. These are critical for healthy, thriving communities. Take any one of these away, and our wellbeing and livelihoods can deteriorate quickly. 
But in Texas and elsewhere, the looming realities of rapid population growth and weather intensity mean that the things we rely on to live — water, energy, dependable infrastructure, and an ecosystem to support them — are under unprecedented risk. 
Here's why: Texas' population today is nearly 28 million. By 2050, that number is predicted to double to 55 million, with most people clustered in already-dense urban centers like Dallas-Fort Worth, Houston, San Antonio, and Austin. Limited resources will be in even greater demand. 
Add to that the environmental stress from prolonged droughts, record-breaking heat waves, and destructive floods, and what we have won't be enough. 
That's our current trajectory, but we can still change course. 
Planet Texas 2050 is an eight-year sprint to find solutions that will make our communities more resilient and better prepared. To do that, we're bringing together architects, archaeologists, city planners, public health experts, geologists, engineers, computer scientists, artists — and more. 
Just as important, what we discover will have applications that extend far beyond our region. We'll share our findings, tools, and processes with researchers across the U.S. and the world who are facing similar challenges in the 21st century. 
Without essentials like water and energy, the systems we rely on — infrastructure to move goods and people, dependable emergency services, and more — will fail. Our ability to sustain those critical resources at levels that can support massive population growth and climatic shifts is in jeopardy.