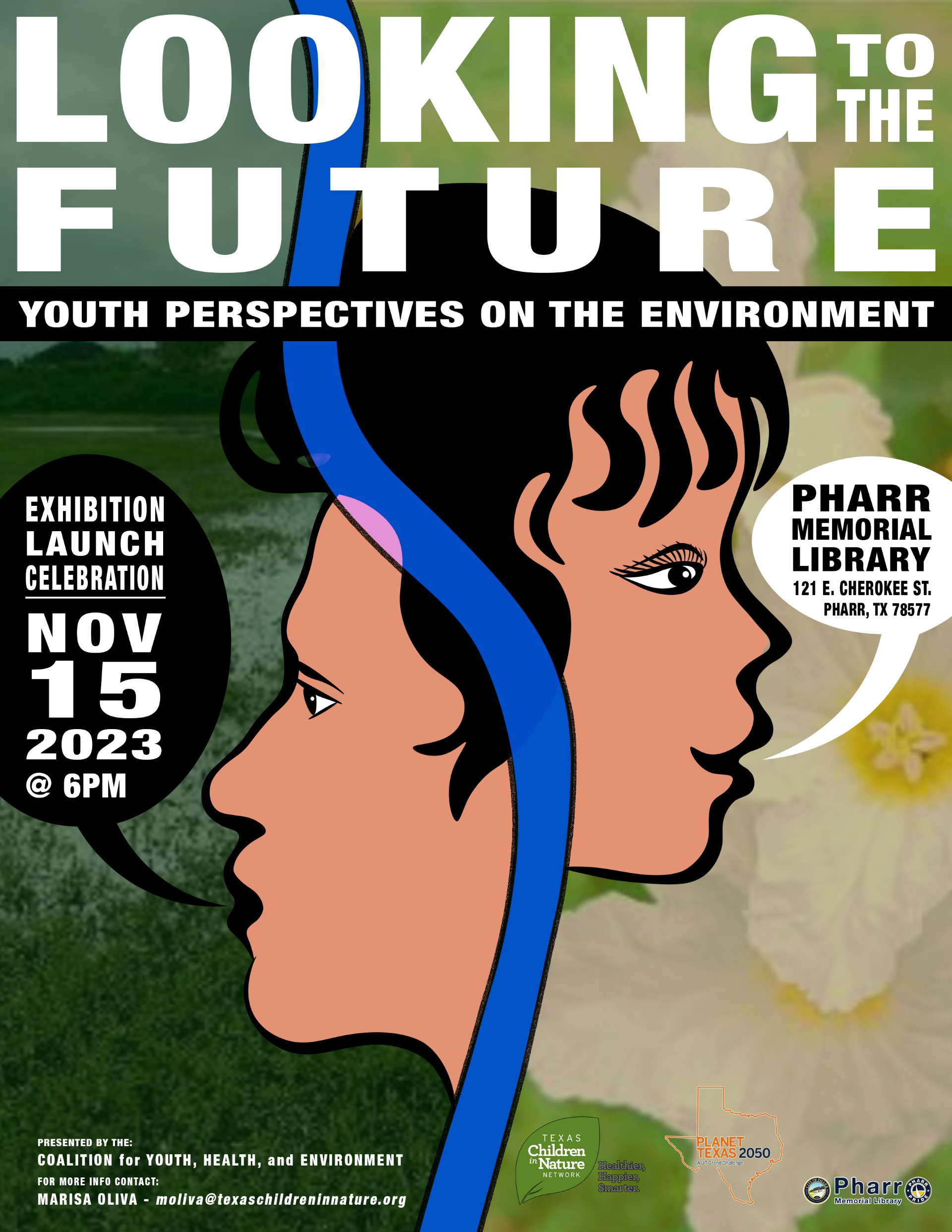 The Pharr Memorial Library is proud to announce the opening of a thought-provoking new exhibition, "Looking to the Future: Youth Perspectives on the Environment," presented by the Coalition for Youth, Health, and the Environment, in collaboration with Texas Children in Nature (TCiNN) and The University of Texas at Austin's Planet Texas 2050 (PT2050) grand challenge. The launch celebration is scheduled for Wednesday, November 15th, at 6 p.m. at the Pharr Memorial Library in Pharr, Texas.
"Looking to the Future" sheds light on environmental challenges and injustices faced by communities in the Rio Grande Valley, as seen through the lens of local high school students. The heart of the exhibition lies in its innovative photovoice approach, a powerful method of expression in which participants capture images of everyday spaces, places, and situations while providing narratives that articulate the significance of the subject matter in their lives. The exhibition showcases their unique perspectives, offering a compelling glimpse into their understanding of environmental issues through a combination of striking photos and poignant storytelling.
The project brings together the expertise of TCiNN in fostering connections between children, families, and nature to promote health and well-being. Marisa Oliva, TCiNN's Rio Grande Valley health and nature liaison, has been a driving force behind the project, serving as the main point of contact and playing a pivotal role in assembling the Coalition for Youth, Health, and Environment, a coalition composed of representatives from local government, school districts, and non-profits, all positioned to inform policy and create positive change. The City of Pharr Parks and Recreation Department — led by its urban ecologist, Hanna Marble — also provided valuable resources for this project, especially meeting spaces for the various activities.
"We are thrilled to unveil the 'Looking to the Future' exhibit, a testament to the passion and creativity of our youth in addressing pressing environmental concerns," Oliva said. "Their voices are invaluable, and through this project, we hope to inspire meaningful dialogue and action towards a more sustainable and just future."
For further information and media inquiries, please contact Marisa Oliva at moliva@texaschildreninnature.org.
About Pharr Memorial Library:
The Pharr Memorial Library is a vibrant community hub dedicated to promoting education, culture, and community engagement. It serves as a space for learning, creativity, and dialogue, providing valuable resources and programs for residents of Pharr and beyond.
About Pharr Parks & Recreation:
The City of Pharr Parks and Recreation Department's mission is to enhance the quality of life of Pharr residents by providing recreational facilities and programs throughout the entire city. The department currently provides amenities such as walking trails, playgrounds, covered picnic areas, skateparks, outdoor basketball courts, youth baseball and soccer fields, and entertainment venues.
About Texas Children in Nature (TCiNN):
TCiNN is a grassroots network of organizations and individuals committed to connecting children and families with nature in Texas. Through collaborative efforts, TCiNN aims to create healthier, happier, and smarter communities by fostering a deep and lasting connection between people and the natural world.
About Planet Texas 2050 (PT2050):
PT2050 is a grand challenge at The University of Texas at Austin that brings together researchers, scholars, and practitioners to address the intertwined challenges of rapid population growth, climate change, and social and economic inequality. Frontline Community Partnerships for Climate Justice is one of PT2050's flagship projects, focused on creating equitable solutions for communities most affected by these challenges.