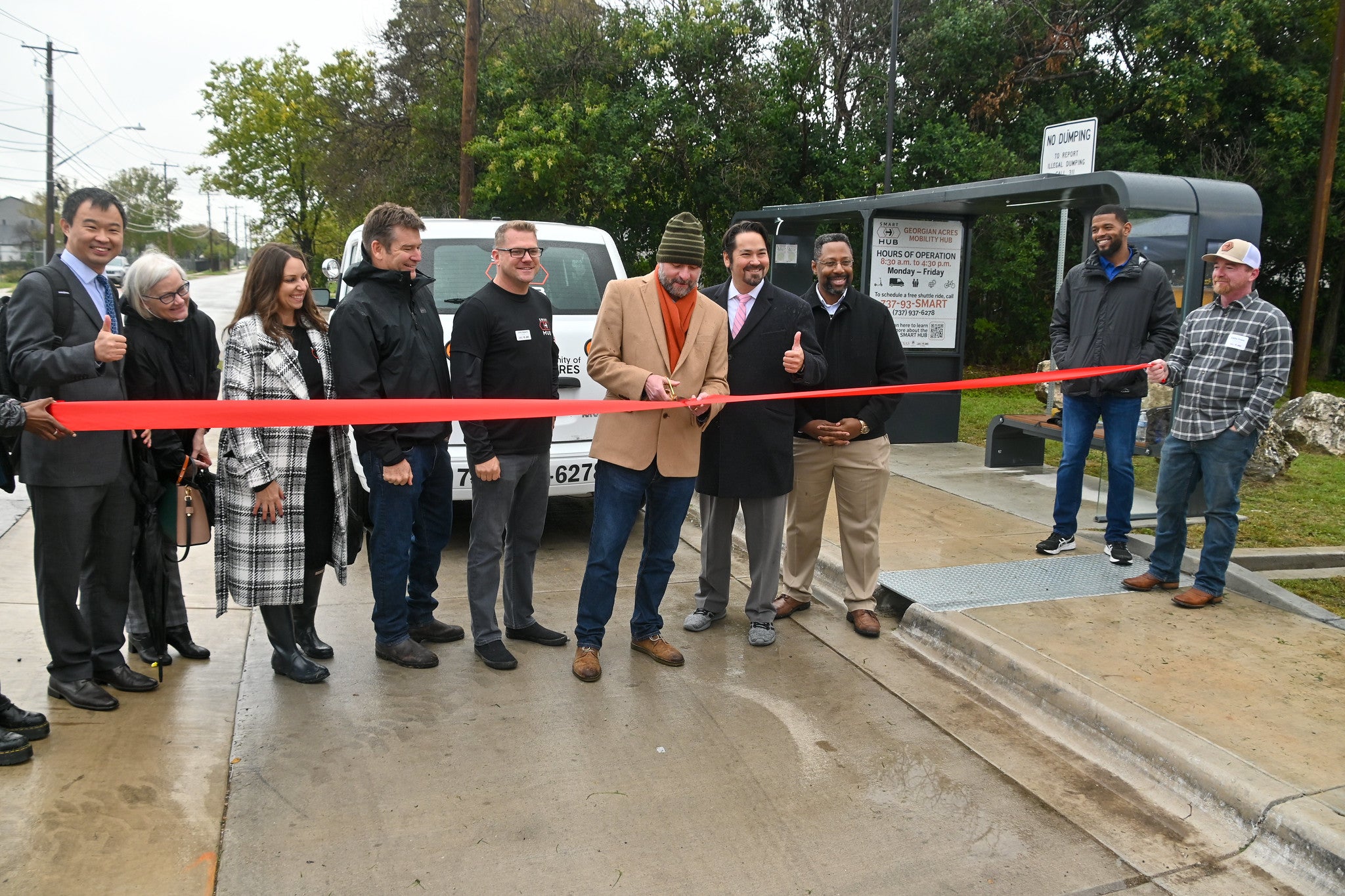 A new mobility hub in the Georgian Acres neighborhood in north Austin is providing much-needed transportation services to a community living in a 'transit desert' and may serve as a useful blueprint for urban areas across the United States in need of similar essential services.
Borne out of a year-long project funded by the National Science Foundation, the new Georgian Acres Community Hub for Smart Mobility on East Wonsley Drive is the result of collaboration between The University of Texas at Austin, the City of Austin, nonprofit Jail to Jobs, and most importantly, the residents of Georgian Acres. The hub provides access to a fleet of e-scooters and circulator buses operated by staff at the nonprofit Jail to Jobs and is designed to help people get to and from their homes, work, the grocery store as well as to existing CAP Metro bus stop routes, previously only accessible by foot.
Community members and leaders gathered Nov. 14 to celebrate the opening of the mobility hub.
Taking a holistic approach to urban planning isn't easy. Urban centers continue to grow in population nationwide, and the development of "smart cities" that not only cater to the needs of existing communities equitably and efficiently, but that can also predict and evolve in accordance with future needs, are difficult to implement retrospectively.
As such, many cities have found themselves living in 'transit deserts,' a term coined by Dr. Junfeng Jiao, an associate professor in the School of Architecture's Community and Regional Planning program at UT Austin, that refers to urban areas where transportation demand exceeds supply.  
"Historically, city planning hasn't always been a collaborative process," said Jiao.
Years of planning overlooked solutions for residents needing to get in and around the Georgian Acres area, instead focusing on solutions for people from all over the greater Austin area who just needed to get through the neighborhood.
Sandwiched between three highways – I-35, US-183 and TX-275 – most of the 9,000 residents of the Georgian Acres community live in apartments where the only option for getting in and out of the neighborhood is by using I-35. A significant proportion of the community, however, live below the poverty line, almost half are entirely reliant upon public transportation to get anywhere and, as the City of Austin Transportation Department's assistant director Jason JonMichael pointed out at the Mobility Hub Launch in November: If all you've got is highways, you need a car, which is the second highest cost for any household.
"This mobility hub makes sense because this time we put the residents at the heart of the decision-making process, asking for their input every step of the way," said JonMichael. "Georgian Acres was forgotten about when the city decided to expand its highways and this has directly contributed to the economic disadvantages faced by many in this community."
The mobility hub provides a covered waiting area, free WiFi and solar-powered charging pods for residents to charge their phones and devices. "Providing these new transport options not only makes it easier for residents to go to and from their places of work, but the mobility hub itself is a new source of employment within the neighborhood," said Kathy Pavlovich from Jail to Jobs, a nonprofit that helps young offenders find employment after release from prison.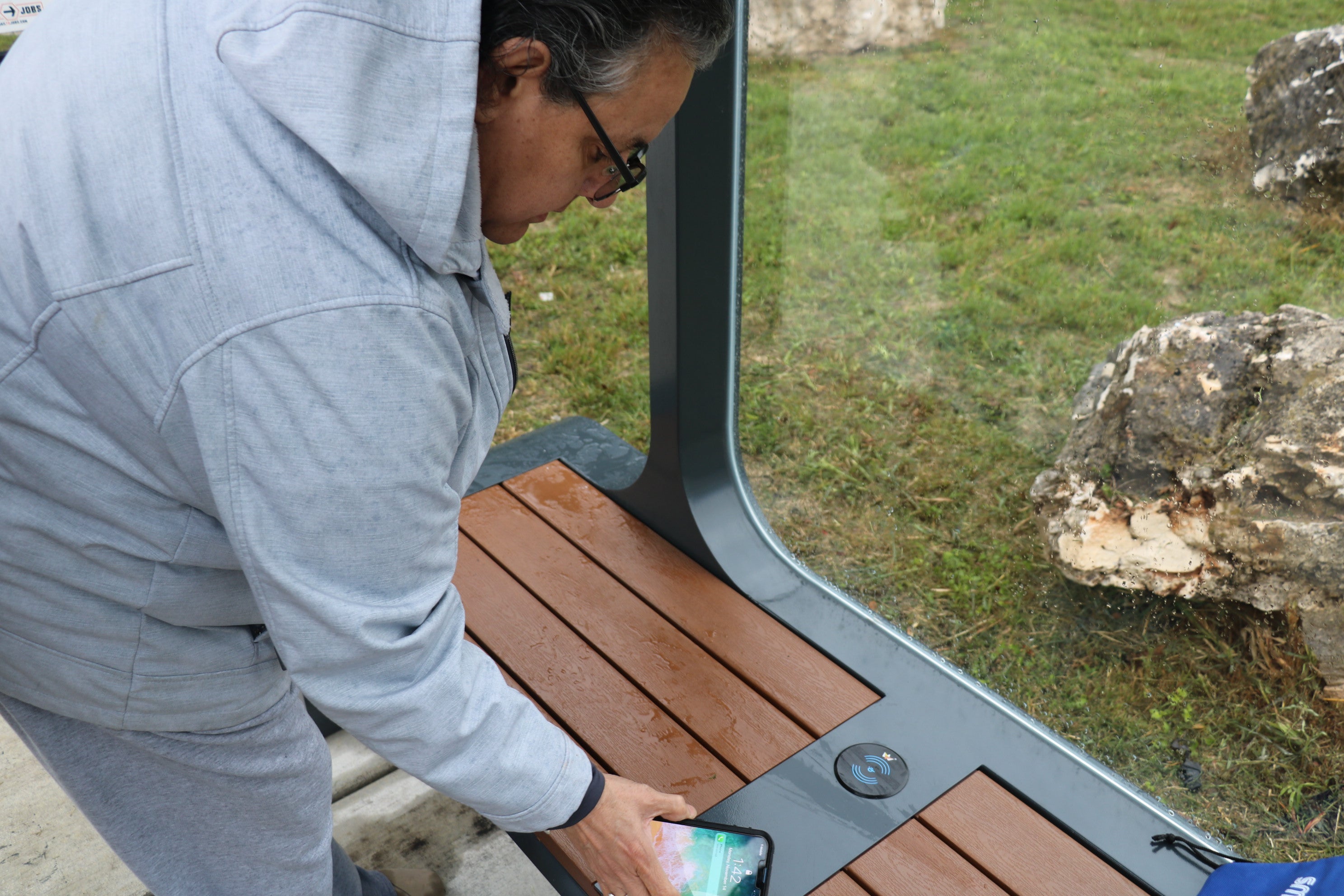 The phone charging pods and free WiFi aren't simply additional luxuries provided for residents waiting on a ride. "Many of the people using the facility cannot afford costly data plans so providing WiFi allows them to stay in contact with their employers, potential employers, family, medical professionals," added Pavlovich. 
Researchers working on the project are involved with Good Systems – one of three university-wide cross-collaborative research initiatives, collectively known as Bridging Barriers, designed to solve pressing societal issues. The project team, in addition to Jiao, includes  LBJ School of Public Affairs Professor of Practice Sherri Greenberg, School of Information Professor Kenneth Fleischmann, Department of Economics lecturer Devrim Ikizler, as well as City of Austin Assistant Director of Transportation Jason JonMichael.
"The Bridging Barriers program brings expertise across campus to address society's grand challenges," said Jiao. "The NSF is committed to funding research with real impact. This is the optimum ecosystem for us to make a difference."
Researchers from UT Austin not only helped bring together industrial, academic, state and nonprofit expertise, they put the community of Georgian Acres at the heart of the decision-making process to design an efficient way to connect different kinds of transportation options together – from public buses, e-scooters and bikes to ride sharing facilities.
"Access to transportation isn't a privilege. It's a human right."
And, while having real research impact on our community is the primary driver of Bridging Barriers, it's also inspiring UT students to think about the Forty Acres as an engine for change.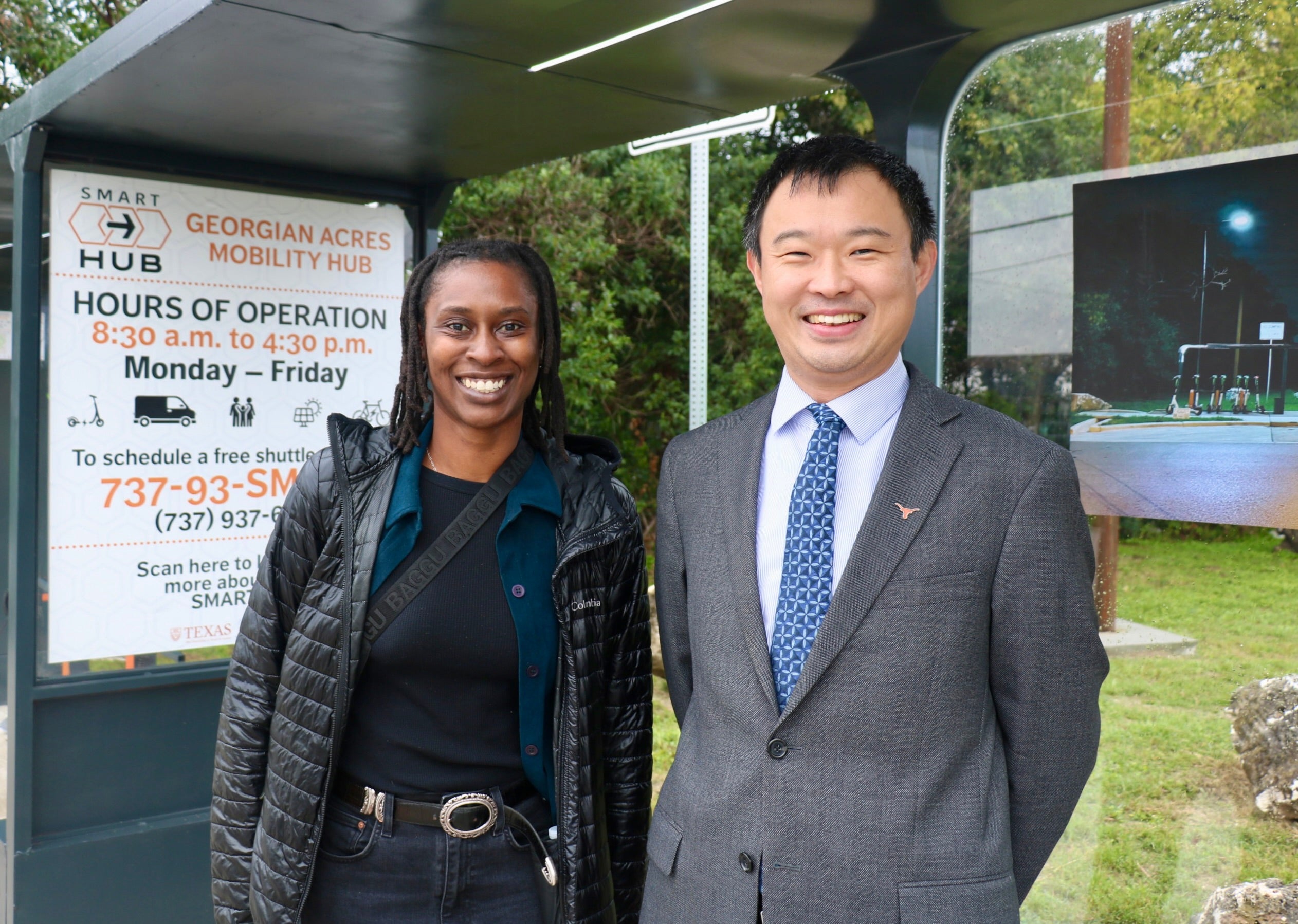 Naomi Nelson is a graduate research assistant at the Urban Information Lab working alongside Dr. Jiao on the Georgian Acres project.  She began her undergraduate degree hoping to become a GIS mapping analyst but over time realized she also wanted to find ways to apply her expertise to actually help communities.
"My current focus is on transportation mapping," she said. "This is the only hands-on research project that I've ever worked on at UT Austin," she said. "It's not just a feasibility study. It's an actual project that is helping community members in their day to day lives. That makes my involvement so much more rewarding and is really what research should be all about."
Nelson's view is shared by her mentor, Jiao, who ended his speech at the launch of the mobility hub with a simple yet important reminder: "Access to transportation isn't a privilege. It's a human right."