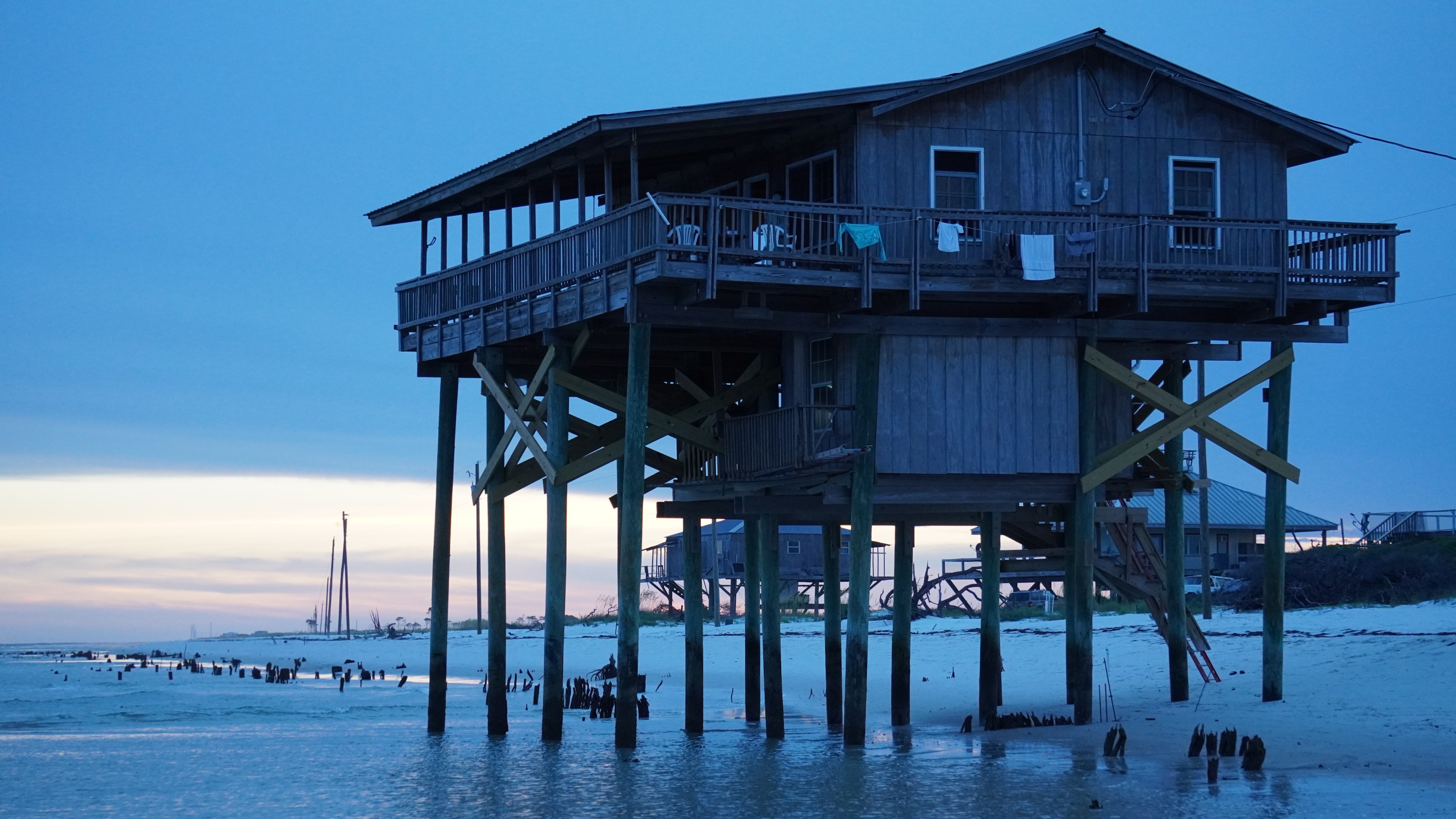 Hurricane Katrina swept across the Gulf of Mexico in late August 2005, causing over 1,800 fatalities and $186 billion worth of damage in its wake. Twelve years later, Hurricane Harvey pummeled Texas and Louisiana with rain and wind, claiming more than 100 lives and causing catastrophic flooding in the Houston area and South Texas.

Natural disasters like these have galvanized academics and policymakers into building a more resilient coastline and adapting to climate change, rising sea levels, and the ominous promise of intensifying hurricanes. Fernanda Leite and Paola Passalacqua, UT Austin researchers in the Department of Civil, Architectural and Environmental Engineering, are engaged in this critical work through the Planet Texas 2050 research grand challenge.

"The Gulf Coast is an incredible resource for the rest of the country. So much goes through it in terms of energy resources and the transportation of goods," Passalacqua said. "If the Gulf Coast is impacted by a hurricane, that impact will be felt in many other places. If people migrate away from the coast, they will have to go somewhere. They will have to find jobs and build homes. The problems that we feel at the coast are not the problems of coastal communities alone. They are the problems of the country."

In May, Leite and Passalacqua – along with Katherine Lieberknecht, assistant professor in the Community and Regional Planning Program in the School of Architecture at UT Austin – hosted a three-day virtual workshop funded by the National Science Foundation entitled "Moving Resilience Research to Action in the Gulf Region.

The goal of the workshop was to establish relationships with community members, nonprofit representatives and other researchers across the Gulf Region, including Michelle Meyer and Maria Koliou at Texas A&M University, Maria Watson at the University of Florida, and Eren Erman Ozguven and Will Hill at Florida A&M University – Florida State University.

Leite, Passalacqua and their fellow researchers wanted to understand what community members living in the Gulf Region value in order to channel their research into action.

"Planet Texas 2050 has taught us the importance of working side by side with communities," Leite said. "Oftentimes, they are the experts of their own specific contexts and they can help us improve our scientific models. This type of work takes time because it requires trust building, and that's one luxury we have with Planet Texas 2050. This is a long-term project, so we have time to build trust with communities – not just with neighborhoods, but with community representatives."

Vulnerable populations living along the Gulf Coast who experience poverty, food insecurity, pollution, and other chronic problems are especially hard hit by increasingly frequent natural disasters. At the same time, solutions proposed by scientists may not reflect the lived experiences of coastal inhabitants and may not ensure that community members' voices are heard.

"The scientific community is learning how to work with communities, but it's not something that we have always done or been trained to do. I think we've gotten much better at this through collaboration with many disciplines, including those trained to work with communities," Passalacqua said. "We've learned that it's important to have communities represented from the very beginning, and that's why we centered community members in this workshop."

But researchers face other challenges when engaging the community: skepticism of science and a desire for quick solutions. In Louisiana, scientists proposed using river diversions to rebuild land, but this type of solution takes several decades to develop and make an impact. In the meantime, diverting rivers will change the agriculture, fishing, and economy of the region. River diversions may represent a challenge to fishing communities, who are afraid of losing their livelihoods and culture. At the same time, building levees doesn't address vanishing land and could create new problems. This is why scientists and community members must collaborate to find common ground and solutions that work for everyone, Passalacqua said.

"Short-term versus long-term solutions are the most difficult choices. Science needs long-term solutions, but communities have short-term needs, so it becomes very hard to find a compromise between the two," she said.

Freshwater fishing communities are not the only ones at risk of losing their way of life. Along the coast, fishing communities are threatened by rising sea levels. According to the National Ocean Service, sea levels along the U.S. coastline are projected to rise, on average, 10 to 12 inches in the next 30 years and this will lead to tides and storm surges reaching further inland. By 2050, damaging flooding is expected to occur, on average, more than 10 times as often as it does today.

"Think about the fishing communities that will disappear because those lands are disappearing. They will have to move inland, but moving means changing their livelihood. They're going to have to retool themselves. Moving geographically has a lot to do with your relationship to place, your community, and your sense of self," Leite said. "It's a wicked problem with multiple layers, and that's why it's important to involve social scientists in this research. We need their expertise to understand the implications of these engineering solutions. It might seem simple to ask coastal communities to move, but there's also a cultural layer associated with this solution."

Ultimately, Leite and Passalacqua hope the May workshop will generate meaningful research opportunities in the future. This future research will allow academics to co-design research questions with communities early on.

"The result of this workshop won't necessarily be short-term. We're building relationships with these organizations, groups and researchers so that when the opportunity arises – let's say, for an NSF call – we won't have to find partners on the fly," Leite said. "We will be in a strong position to go back to these communities and say, 'Let's do what we discussed in the workshop. Let's go for this!'"

There is no question that the Gulf Region needs resources in the near future to combat the effects of climate change and protect its communities. Thanks to the research networks Leite and Passalacqua are building, the Gulf Region will have more opportunities to strengthen its resilience so that communities can bounce forward – to a stronger community – after the next hurricane hits.