Not every city is home to one of the world's leading public research universities. Fewer cities, still, are able to take advantage of their intellectual capital the way Austin does. Case in point: the collaborations between the City and UT Austin's Planet Texas 2050 grand challenge, which are crucial to ensuring Austin's leaders are basing their climate resilience action on research informed by leading expertise and guided by a commitment to finding solutions for everyone in our community.
Just ask Austin Mayor Kirk Watson about Planet Texas 2050 (PT2050), an initiative aimed at helping Texans respond to challenges brought by climate change and compounded by rapid population growth. "Our relationship with Planet Texas has been crucial to ensuring the City of Austin is making climate resilience policy decisions based on the most advanced and accurate data and research available," he said.
This is no small feat. Collaborations among industry, academia, and state are often fraught with challenges—disputes over top priorities, communication breakdowns, language barriers, even different jargon. But the PT2050 interdisciplinary teams have had plenty of practice learning how to communicate effectively with experts from different fields to find workable solutions.
"Our relationship with Planet Texas has been crucial to ensuring the City of Austin is making climate resilience policy decisions based on the most advanced and accurate data and research available."

—Mayor Kirk Watson
PT2050's chair, Paola Passalacqua, is professor of Environmental and Water Resources Engineering at the Cockrell School of Engineering. During a chance encounter at a Ph.D. dissertation defense with Patrick Bixler, an assistant professor at the LBJ School of Public Affairs, Passalacqua was impressed by his line of questioning and intrigued by the overlap shared between their seemingly disparate areas of expertise.
The two have now been collaborating for the last five years, forging strong ties with the City—an approach that, from day one, has been a top priority for both. "What PT2050 has been able to do is bridge this gap" between academia and the public sector, Passalacqua said. "Instead of having the academics working over here, and the practitioners working over there, and the residents being somewhere else, it has brought everybody into the same room."
From Hazard Hub to Pin2Flood
The project Passalacqua and Bixler co-lead is called Networks for Hazard Preparedness and Response. One of PT2050's six flagship initiatives, the project focuses on helping communities in Austin and Southeast Texas adapt to the changing climate and better prepare for natural disasters, particularly flooding.
The project team hosts a series of "Hazard Hub" meetings with various stakeholders working across a range of hazards (extreme heat, wildfires, flooding, and water and air quality) to help guide the next phases of their work. They are also working with Travis County Emergency Management (TCEM) to determine how their flood inundation tools can best be used for TCEM's planning purposes.
One way the project team has collaborated with the City is by consulting with the people most affected by natural disasters, as well as those charged with aiding them. In the case of flooding, those life-savers are often first responders.
"You can do all your fancy maps and models and then put it in the hands of a firefighter the moment Hurricane Harvey comes, but their map is not going to talk to them," Passalacqua explained. "The colors are not necessarily what they want. The scale is not what they want, and maybe they don't need a (complex map). Maybe they just need color codes that say, 'Green Threat.' That is information that you can't figure out the moment you have an emergency. It's information that you have to have worked out with the people who eventually are going to use your map."
Enter Pin2Flood, a mobile app Passalacqua and her team developed with insights from leaders with first-hand experience, like former Austin Fire Department Chief of Staff Harry Evans. The app enables first responders to track flooded areas in real time. When firefighters arrive at a scene, they can drop a digital "pin" in places where they see flooding. The app then returns an accurate flood map in minutes, showing other areas that are at risk. This helps emergency departments make life-saving decisions, such as where to order evacuations or send critical resources. 

Pin2Flood mobile app, from Pin2Flood website. Credit: UT Austin 
"For us as city employees, data is only useful if it's tied to decision making," said Marc Coudert, the climate resilience and adaptation manager in the City's Office of Resilience, and a longtime PT2050 collaborator. "If it's not tied to decision making, it's less useful. So if we can get UT modelers to (use) lived experience to figure out what's actually happening on the ground to tie it to decision making, then it becomes a lot more powerful for us."
Cultivating Resilience
Katherine Lieberknecht, an assistant professor in the Community and Regional Planning program at the School of Architecture, co-leads another PT2050 flagship project, Equitable and Regenerative Cities in a Post-Carbon Future, with Professor Fernanda Leite, from the Department of Civil, Architectural and Environmental Engineering. The goal of the Equitable Cities project is to reimagine more equitable and resource-efficient metropolitan areas while safeguarding natural resources that people and the planet depend on.
One of the project's main initiatives is the City's Resilience Hub Network, a series of physical facilities that offer day-to-day services and support the community before, during, and after a disaster. "When Fernanda and I started co-leadership of the Equitable Regenerative Cities flagship, we were really trying to think about how we can ensure that this work is useful and applied," Lieberknecht said.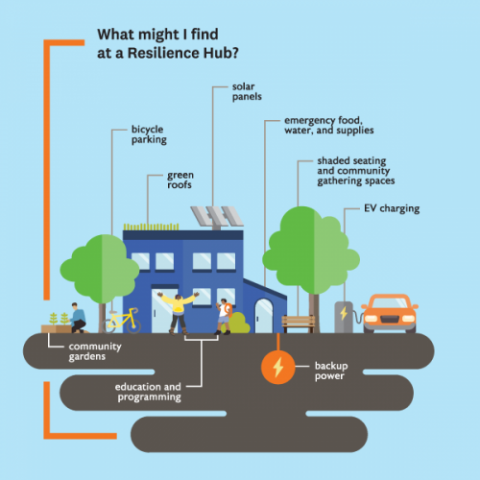 Pilot resilience hub mockup. Credit: City of Austin
Thanks in part to the support of PT2050's researchers and community partners like Go Austin!/Vamos Austin! (GAVA), a grassroots nonprofit dedicated to improving health equity in Austin's Eastern Crescent, the City is currently rolling out six pilot resilience hubs, and the project was nominated for a 2023 Urban Land Institute Impact Award in the "Next Big Idea" category. Multiple aspects of this collaboration are now being folded into a COA/UT interlocal agreement, or ILA, a special type of contract that helps streamline work between governments and outside organizations.
"With this great interlocal agreement that [Deputy Vice President for Research] Jennifer Lyon Gardner and others at UT Austin worked hard to structure, it's much easier for the City of Austin to engage with UT around research," Lieberknecht said. "It's really reduced the friction in working with the city, especially on smaller projects."
Connecting Data to Emotion
The Pin2Flood app and Resilience Hub Network epitomize the ways Planet Texas project teams have integrated their research with the insights and needs of communities to create tangible products that make an impact. There are plenty of other examples as well, from a NASA-funded project to create an Austin "Climate Atlas" led by Bixler and engineering and geosciences professor Dev Niyogi, to the utilization of sensors to monitor flooding in Austin's Dove Springs neighborhood, led by Bixler and engineering assistant professor Matt Bartos. Both of those projects have also partnered with GAVA.
"It's really cool that the city collaborates so much with us, and we collaborate so much with them," Passalacqua said. "To me, as frightening and as disappointing as climate projections might look, it does give me hope. The city is aware of what's going on, they have the climate projections, and they know what might happen and are preparing for it."
Just this week, Congressman Lloyd Doggett announced that UT Austin will anchor a federally funded research project with the City to better understand the impact of climate change on Texas communities.
"As frightening and as disappointing as climate projections might look, it does give me hope. The city is aware of what's going on, they have the climate projections, and they know what might happen and are preparing for it."

—Paola Passalacqua, PT2050 chair
Mayor Watson, who spoke at the press conference, has long recognized the University as a unique resource. "The presence of UT Austin in this great city of ours has always been a source of creativity, innovation, and forward thinking that we are grateful to have a direct pipeline to," he said. "PT2050 is no different. With so many long-standing collaborations between us, PT2050 has helped form the basis of several city policies on climate resilience because the insight they can provide will enable the people of Austin to not simply react to a future where increasing extreme weather events are inevitable, but to be equipped to tackle them head on."
Coudert agrees. "This is much more than just crank out some data and we're done," he said. "It's about all the great things UT provides in breaking down the silos of the ivory tower concept: getting those students and faculty into the community, going to meetings, meeting people. For me, it's about connecting data to emotion. It's about those lived experiences, those people who live in those communities, and making a difference."