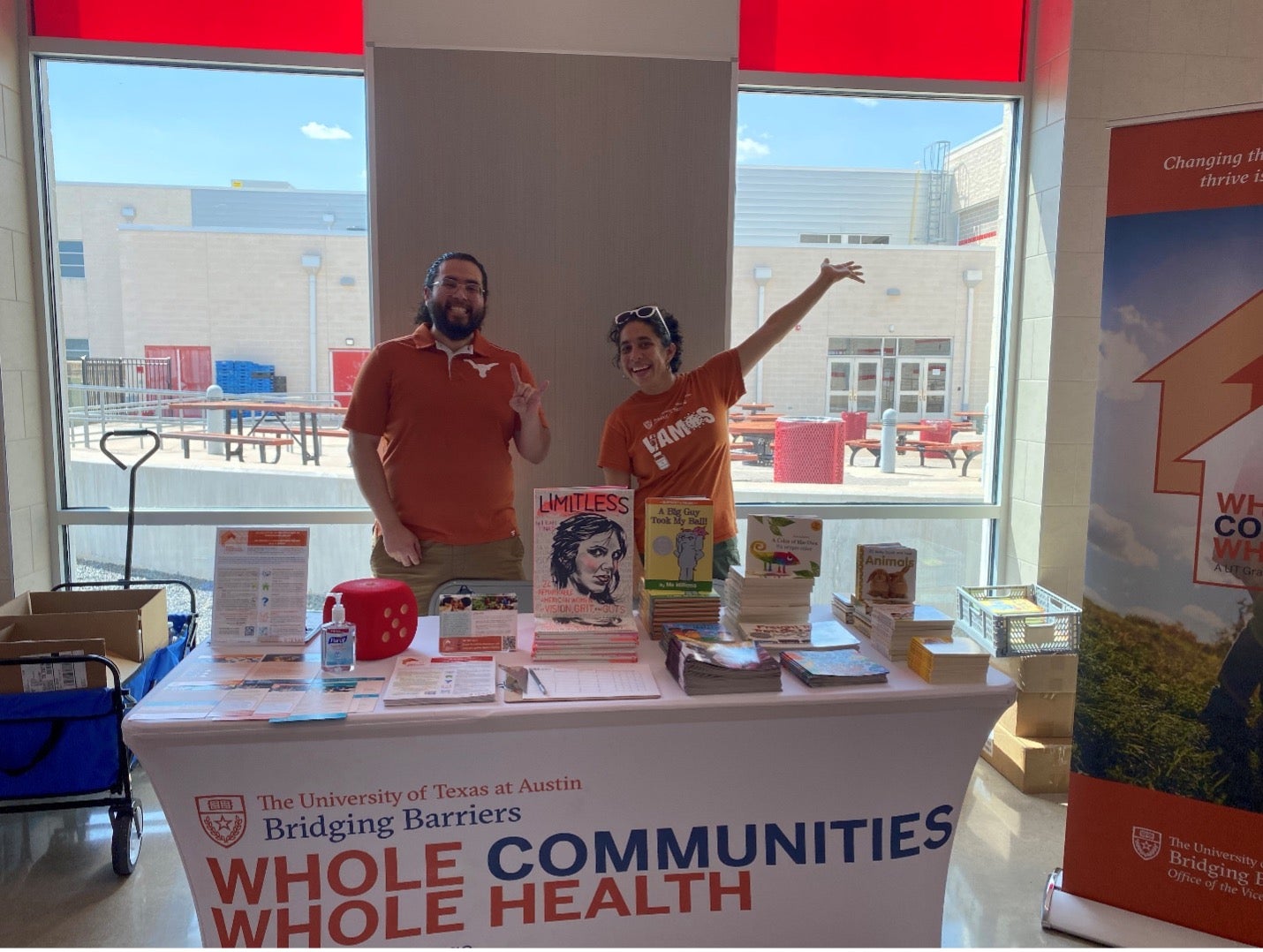 Just before the start of the school year, Del Valle Independent School District (DVISD) held its first Back to School Bash in recent memory. Over 1,000 people attended the evening event on Aug. 4, which provided an opportunity for local families to access resources, have fun, and get into the school spirit.  
Approximately 30 community groups participated in the event, including the local fire department and food bank. Four groups sponsored the event, with Whole Communities–Whole Health serving as the lead sponsor. Del Valle ISD requires middle and high school students to carry clear backpacks, and thanks to support from the event sponsors, 500 free, approved backpacks were distributed.
Whole Communities – Whole Health staff working the Back to School Bash included Shirene Garcia, senior outreach program coordinator; Daniel Perez, research associate for community engagement; and Sarah Smith, research study coordinator. 
"As a community-centered research project, we want to give back to the community where we work," Garcia said. "It was important to us to do something tangible that shows our commitment to students, families, and the district as they start a new school year." 
According to Christopher Weddle, executive director of communications for Del Valle ISD, one of the district's goals is to have more meaningful family participation. In the spring, as district leadership began planning for the upcoming school year, the idea of a Back to School Bash emerged, which is an opportunity offered by many other school districts.
In addition to helping parents and students with school registration and access to resources, Del Valle ISD's Back to School Bash offered attendees plenty of entertainment. Elementary students played on a bounce house and enjoyed games and face-painting organized by Del Valle ISD high school students. The event concluded with a community pep rally.
"Whole Communities–Whole Health reached out and wanted to be involved," Weddle said. "They are invested in our community. This event would not have been possible without them, and we are grateful for this opportunity for our families to start the school year on the right foot."